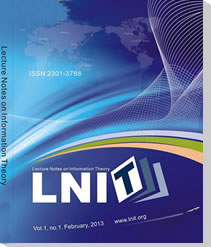 Lecture Notes on Information Theory
LNIT aims to provide a high profile, leading edge forum for academic researchers, industrial professionals, engineers, consultants, managers, educators and policy makers working in the field to contribute and disseminate innovative new work on Information Theory. All papers will be blind reviewed and accepted papers will be published quarterly which is available online (
open access
) and in printed version.
Recently Published Papers
A Novel Definition of an Efficient Binary Decision Tree
Christopher Nwosisi
Decision trees have been well studied, widely used in knowledge discovery and decision support systems. They are simple and practical prediction models but often suffer from excessive complexity and can even be incomprehensible. In this study, a genetic algorithm is used to construct decision trees of increased accuracy and efficiency compared to those constructed by the conventional ID3 or C4.5 decision tree building algorithms. An improved definition...[Read more]
ISSN: 2301-3788
Editor-in-Chief: Prof. Geetam S. Tomar
Associate Executive Editor: Ms. Scene Jiang
DOI: 10.18178/lnit
Abstracting/Indexing: EI(INSPEC, IET), Ulrich's Periodicals Directory, Google Scholar, Crossref, Engineering & Technology Digital Library and etc.
E-mail questions or comments to LNIT Editorial Office.

Prof. Geetam S. Tomar
Malwa Institute of Technology & Management, Gwalior
I am very excited to serve as the first Editor-in-Chief of the
Lecture Notes on Information Theory
(LNIT) and hope that the publication can enrich the readers'
... [
Read More
]